There are so many types of roof tile available that it can be difficult to choose which one for your home. For many period homes in the South-East, natural slate will produce the most authentic look. But what are the other facts about these blue-grey tiles?
LONG LIVE THE NATURAL SLATE ROOF TILE
Natural slate creates a stunning finish to any roof. However, they've got more than just good looks. Natural roof slate lasts longer than any other tile. Many slate tiles have lasted up to 150 years, and some have even been known to outlive the building that they have been protecting from the elements. The best part about their longevity is that natural slate requires very little maintenance. Therefore, despite being a more expensive option in terms of up-front costs, natural slate will last you a lifetime or two!
KNOW YOUR NATURAL SLATE
There are two different regulations which natural slate tiles must adhere to. The first is BE EN 12326-1 which contains details about the specifications of the roof tiles. The second is BS EN 12326-2 which outlines the methods used when testing roof tiles for quality.
When buying natural slate, it is important to know the amount of calcium carbonate content in the slate. If this is over 20% then there may be a compromise in the quality of the slate. It can also have the effect of causing the colour of the slate to lighten once they have been exposed.
Crucially, it is recommended that natural slate is only used on roofs with a pitch of at least 25°. There is some specific slate which can be installed on roofs with a pitch of 20°. However, usually if the pitch is lower than this the roof becomes at risk of leakages.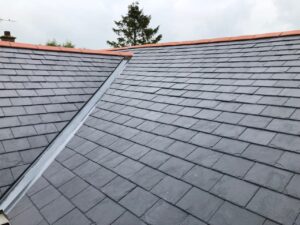 Finally, if you are having a new roof fitted out with natural slates, be wary that the roof itself may need some adjustments. Natural slate is relatively heavy, and therefore, it is necessary to check the structural integrity of the roof before you fit it with new tiles.
At Lifestiles, our range of natural slate roof tiles includes Chatsworth, Haddon, Penrhyn, and Cwt-y-Bugail. Each of these tiles has its own unique character so you can pick the perfect look for your roof.